An British observation by F/Lt E.R. Wood who served as Education Officer, sometimes Intelligence Officer and and sometimes Adjutant with 312 Sqn during 1942/43 :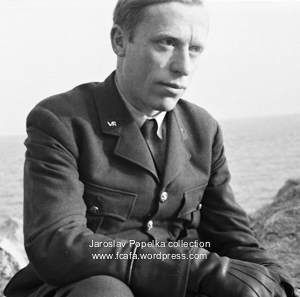 After nearly two years in a Czechoslovak Squadron I find myself wondering how we have put up with each other for so long and I have no wish to leave the Czechs. There is something likeable about them, and I'm not quite sure what it is.
It can't be because they laugh so much more than the English – although they do – for I only rarely know what they are laughing at, so I cannot enjoy the fun. It isn't because they sing so much better in their cups – though they do – for the Welsh sing still better sober, and yet I do not like the Welsh. It isn't because they are such good chess players: that is rather a matter of grief and humiliation to me. It isn't because we agree to despise English institutions as beef and two vegetables or apple and custard, because I find their own concoctions still worse and I pray that I may never see another "knedlik" as long as I live!. It isn't because I admire their composers and writers – though I do – for most care no more about Dvořak and Čapek than we English care about Purcell and Shakespeare. I don't like their language, which is a torment to me, nor do they care for mine, which they misuse so cruelly.
They have round, genial faces and good teeth, and they are so strongly built and well-developed by Sokol exercise than I wonder why they play a girls' game like volley-ball instead of a man's game like Rugby and Football…… Many are alert and intelligent, well informed about international affairs, and some, but by no means all, are good democrats and fine recommendations for the land of Masaryk. It is obvious that the Czechoslovak republic had a high standard of education, physical, mental and social, and will that standard again.
But they are likeable for something deeper than this. Perhaps it is because they have such vigorous individuality. They have not been educated into one mould. The are not emasculated by gentility. They are not too well-bred to laugh uproariously, talk excitedly, show enthusiasm, expostulate, argue, jeer and wave their arms – in fact to be themselves. So they show up well beside the cautious English, who rarely let themselves go unless they are drunk, when they let themselves go too far.
They show up well, too, besides their neighbours in Europe. They cultivate none of that musical-comedy, heel-clicking punctilio which please the female cinema-goer and befits a dancing-master. Nor do they show that theatrical arrogance which is counted virtue in some countries. The Czechs have too much solid commonsense, too strong a sense of ridicule for that.
Among the Czechs I have known many men of whom I shall never forget; some because they have been my friends and others because they were men of outstanding personality. I can think of no enemies. So it is not surprising that after nearly two years I have no wish to leave the Squadron.
Some time I will write an article about what I dislike about the Czechs, but it will be a much shorter article than this.
Alan Davie also a British member of 312 Sqn where he formed strong ties with the Czechoslovak airmen. Post WW2 he maintained his affinity to them and until his death was a respected authority on all Czechoslovak RAF matters.
His own observations :
We admired them for their resource and adaptability and easy method of settling soon to new situations – borne, no doubt of their experiences in various other countries and war operational conditions prior to coming to Britain – to be regarded as the last bastion. Their creative instincts and manual faculties kept them busy and invariably cheerful. If found silent they would be invariably cooking up some new move.